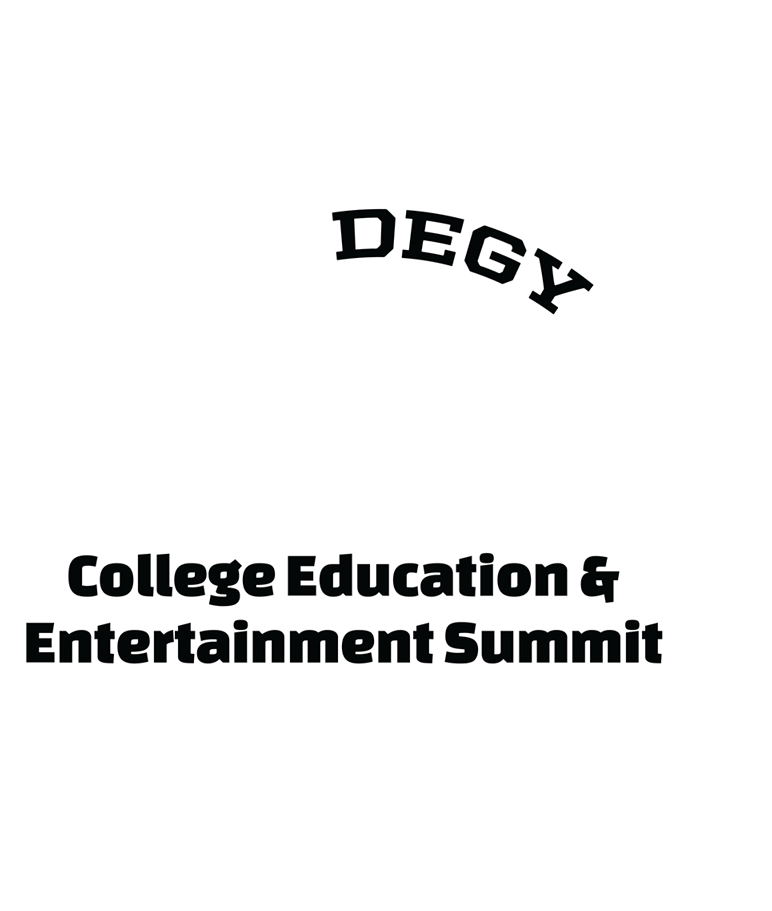 What is the College Education & Entertainment Summit?
CEES is a FREE virtual programming, educational and entertainment summit for college students & higher ed professionals. The event will connect the worlds of entertainment & programming with the importance of career planning and job readiness. Students and advisors from colleges & universities around the globe are welcome to attend. However, the curriculum will focus heavily on topics such as programming, events, activities, and student life on their campuses. The Summit will also focus on topics such as programming live and virtual events and career building skills led by professionals in the field. Prepare for a day-long, action-packed program complete with live panels, job networking, learning sessions, career development classes, programming discussions, music showcases, and much more. CEES will also feature high-profile, keynote speakers who influence higher education space. This summit will be educational, informative, immersive, and fun! Register for free, tell your friends, create your avatar, and prepare for a unique summit in our Degy World platform.
Full Day Schedule – Friday, January 22
Software Drop / Welcome to Degy World
Morning Yoga & Wellness with Dena Jackson [Oasis Stage]
Opening Remarks w/ Ari Nisman & Jeff Hyman [RMN Auditorium]
Keynote: Kevin Lyman (Vans Warped Tour) [RMN Auditorium]
Keynote: Frank Warren (The PostSecret Project) [RMN Auditorium]
Major Artist Touring Panel [Allegro Auditorium]
Programming Panels
Best Ideas for a Save Live Event  [Bass Auditorium]
A Student View – Programming Ideas for 2021  [Harmony Auditorium]
Programming for Under-Represented Populations during a Pandemic. [Melody Auditorium]
Marketing: How to promote virtual – increasing virtual attendance  [Pulse Auditorium]
Virtual Events Panels
Virtual Event Community – A Sharing of Best Practices [Sonata Auditorium]
Virtual Club Recruitment [Tempo Auditorium]
Live Streaming and Virtual Tech [Treble Auditorium]
Virtual Events with National Acts [RMN Auditorium]
"Learn That Thing" - Educational Showcases
Asia – Learn That Thing: Creative Writing & Poetry [Albany Ballroom]
Jodi Greebel – Learn That Thing: Cooking & Good Nutrition [Atlanta Ballroom]
Reese Butler – Learn That Thing: Wellness [Brooklyn Ballroom]
Student Networking – Large Enrollment Schools [Delray Ballroom]
Rachel Green – Adding Hospitality to Your Event with Mocktails [Manhattan Ballroom]
Career Keynote [RMN Auditorium]
Career Building Sessions 1
How to Find and Communicate Your Wow Factor in a Competitive Market [Allegro Auditorium]
Networking: Leveraging On Campus and Alumni Resources [Bass Auditorium]
How to Brand Yourself & Interview Tips [Melody Auditorium]
Career building sessions 2
How to Create a Resume and Cover Letter That Will Stand Out In a Job Search [Rhythm Auditorium]
Booking Rooms, Ordering Pizza, and Running a Meeting: Make it Work for You [Sonata Auditorium]
How to Build a Side Hustle [Tempo Auditorium]
Career Panels
Careers in Higher Ed [Allegro Auditorium]
Careers in Entertainment [Harmony Auditorium]
Recent Grad Transitions to Working World [Bass Auditorium]
Alternate Careers: My Life as an Influencer [Treble Auditorium]
 COVID Compliance w/ Hillary Cartwright – Keynote [RMN Auditorium]
Student Networking Sessions [Delray Ballroom]
Expo Hall Open  [Champions Center]
*Best viewed on Desktop or Laptop Devices*
Read More
Kevin Lyman is the founder and operator of the Kevin Lyman Group. KLG is a live event production company and brand strategy firm. His most notable tour is the Vans Warped Tour, which attracted nearly 750,000 people annually and was the longest-running North American festival concert tour.  In the Fall Semester of 2018, Lyman started teaching at USC's Thornton School of Music as an Associate Adjunct Professor.
Read More
Frank Warren is the most trusted stranger in America. He is the sole creator of The PostSecret Project, a growing collection of over a million artful secrets mailed to his home from around the world.
The PostSecret website has become a phenomenon earning over 820 million visits becoming the world's largest advertisement-free blog. The popularity of the project and its impact has earned Warren recognition as one of the top five influential people on the internet by Forbes. Warren's six books have all become bestsellers and his popular TED Talk was called, The Number 1 TED Talk That Holds the Key to Public Speaking Genius, by INc Magazine. His work has been featured on CBS Sunday Morning, USA Today, The New York Times, The Today Show, 20/20 and CNN.
Read More
Hillary Cartwright is the co-founder of The Event Ally, which functions as your external health & safety department to safely move your live events forward in the era of COVID-19. Hillary joined the events world as part of her Student Programming Board in college and since has produced events all over the country, from multi-million dollar Super Bowl sponsorships and televised BBQ competitions to airport therapy dog programs and 29rooms for Refinery29. Event safety has always been a passion for her, leading to the creation of The Event Ally in 2020. Hillary has a degree in Marketing from Bryant University and a MBA from Washington University in St. Louis. When she's not helping you with the health & safety planning of your events, you can find her at the ice rink, teaching kids how to skate.
Read More
As a manager at Full Stop Management, Adam "ASH" Harrison shepherds and guides the careers of GRAMMY® Award-winning multiplatinum clientele, as well as leading a dynamic and highly creative staff. His emphasis on teamwork remains integral to the company's continued growth and success.
Growing up in the Washington, D.C. area, he made his entry into the music industry via alphabetizing CDs at famed radio station, DC101. After graduating from Indiana University, he relocated to Los Angeles and formally commenced his career in management. In 2004, he developed a bond with manager Jordan Feldstein and joined him to initiallly start CAM (career artist management)
Over the past fifteen years, Adam Harrison has played an integral behind-the-scenes role in Maroon 5's historic success across music, television, branding, and more. This includes four multiplatinum albums, a string of culture-defining singles, world tours, and frontman Adam Levine's 16-season run on NBC's The Voice. Additionally, Harrison augmented the facilitation of Levine's 222 Records and a production deal with Universal that included the launch of SONGLAND on NBC. This accompanied a wide variety of high-profile endorsement deals, including K-Mart, Honda, Samsung and JBL.
Following Feldstein's 2017 passing, Harrison united with Irving Azoff to co-manage Maroon 5. In 2018, Maroon 5 delivered one of their biggest hits to date with "Girls Like You" [feat. Cardi B], which has gone on to become the longest-running song on the Billboard Hot 100 Top 10 and holds the record for longest reign by a group on the AC Radio chart
Recently, Harrison has segued over to Full Stop Management, and oversees the careers of Fitz and the Tantrums, Big Boi of Outkast, Chromeo, Delta Spirit, Phillip Phillips, and songwriter/producer, Adam Friedman. In 2020, Harrison sheppered a deal to have Big Boi and Chromeo remix some of Elvis' biggest hits into a partnership with Peloton. Additionally that same year, Harrison helped Fitz and the Tantrums frontman, Michael Fitzpatrick procure a record deal for his first ever solo record at age 50.
In just over a year with his newly-curated roster, Harrison helped Delta Spirit release their first project in 5 years, and made Adam Friedman a coveted household name in the pop songwriting space. Throughout 2020, Friedman lent his talents to pop supergroups O.A.R, and Big Time Rush, as well as up and coming singer/songwriter, Tai Verdes. 
As an active philanthropist, Harrison founded the Beverly Hills Men's Club, and remains an integral piece to the operations of charities including REVERB, Diversify the Stage (founded and ran by Fitz and the Tantrums co-lead singer, Noelle Scaggs) and The Pablove Foundation. Most importantly, he is a father of two wonderful sons, Isaac and Eli.
University of South Florida
Read More
Adriana Postiglione is a sophomore majoring in marketing and minoring in advertising at the University of South Florida. She began working as an event planner for the schools Campus Activities Board the summer before her freshmen year and has been there since. Adriana also interned for Degy during the summer and fall of 2020 to help improve herself as not only business woman, but to also learn the ins and outs of the entertainment industry. She hopes to one day work in the entertainment business as either a marketing executive or a publicist.
Asst. Director Recruitment
Read More
Ali Mathe began her journey in Higher Ed as a student at The University of Tampa involved in the Office of Leadership and Student Engagements, holding positions in both Student Government and Greek Life. After graduating with a degree in Psychology and Criminology, Ali continued her education studying College Student Personnel at Bowling Green State University. Since graduating with her masters in 2010, she went on to hold positions in higher ed at the University of San Francisco, The University oof Tampa, and the University of South Carolina Beaufort. She currently works as the Assistant Director Recruitment and Undergraduate Admissions at Texas A&M University, Central Texas.
Read More
Eastern CT State University
Read More
Alyssa Duffy is an Assistant Director in the Student Activities Office at Eastern Connecticut State University. She earned a Bachelor of Science in Elementary Education, Bachelor of Arts in Liberal Studies and a Masters in TESOL, Multicultural and Bilingual Education from Southern Connecticut State University. Alyssa currently trains and supervises the Campus Activity Board (CAB), whose primary responsibility is to promote campus wide programming initiatives. She also oversee commuter student initiatives and advise the Senior Class.
Read More
Amy Kossoff Smith is the owner of Power Hour Editing and uses her journalism and PR experience to help students find and amplify their own unique voice. She has an extensive track record in coaching students to get to the heart of the story fast to communicate messaging to stand out in the competitive admissions process. She has helped companies tell their best stories to the media through her PR firm (www.WriteIdeas.com) and launched an online parenting magazine (www.TheMomTiniLounge.com) where she reports on parenting topics.
Amy graduated in the top 10% of her class from Northwestern's Medill School of Journalism. Her article on offbeat tactics students used to catch the eye of admissions officers – first written in high school – won first place in the William Randolph Hearst Pulitzers of college journalism contest. Featured on The Today Show, ABC National News, and in The Wall Street Journal and New York Times, Amy is a prior national wire columnist. She authored an essay in Knowing Pains: Women on Love, Sex & Work in Our '40s and was featured in I Love Mondays…and Other Confessions from Devoted Working Moms. Amy was an invited panelist at the Association for Education in Journalism and Mass Communication Conference and is a frequent presenter at schools on the college writing process. Married to Mitch for 26 years, Amy has three sons, a graduate of Vanderbilt, a senior at Duke, and a freshman at the University of South Carolina. More info: www.PowerHourEditing.com
Read More
Ari began his music industry career with an internship with Polydor/Atlas Records and then Capitol Records as a college marketing representative. A few years later, while having issues getting his own management clients booked, Ari bought out a booking agency in Colorado and formed Degy Booking International, Inc.  Degy now handles bookings at nearly 1000 college campuses in N. America and landed a Department of Defense IDIQ military contract nearly ten years ago.  From smaller dance parties, talent on its exclusive roster, and major headliner names from its middling division, the company is one of the largest providers of entertainment to colleges, military bases, sports teams, corporations, fairs, festivals and PACs.
Virtual Event Experiences
Read More
Bre Donofrio is the Founder of V.E.E. by Bre, Virtual Event Experiences. She is a renowned global event curator, speaker, and coach who has created 1,000+ unique events at worldwide venues, with audiences surpassing 40,000+. Most recently featured in VoyageLA Magazine as one of "LA's Most Inspiring Stories" and selected for Brainz Magazine's Global 500 List as one of only 500 Companies, Entrepreneurs, Influential leaders and Small Business Owners worldwide recognized for their entrepreneurial success, achievements and dedication to help others, Bre is one of the most widely respected event planners in the industry known for delivering the most impactful and memorable events and experiences imaginable.
Her collection of one-of-a-kind worldwide events include in-person, hybrid, and virtual experiences for private, corporate, and non-profit clients; the likes of which include the United Nations, The U.S. Open, Private Academy AwardsⓇ Galas, Salesforce, PebbleAgencies in Washington D.C. and Geneva, Harvard University, Boston University, TED Speakers, Social Media Influencers, Coaches, Entrepreneurs, and Private Fundraisers and Campaigns that have collectively raised over $15M.
Donning the nickname "the entrepreneurial pimp" for her goodhearted outreach and sincere support of others, she is hailed as a pioneer in her field. Bre is known for debunking myths, crushing limiting beliefs, and revealing the industry's best kept secrets to all… including the biggest one yet: It's not just for event planners and virtual summits anymore!
Read More
Ms. Smart joined The University of Tulsa (TU) Center for Career Development and Professional Engagement as a Career Coach for the students in the Henry Kendall College of Arts and Sciences in September of 2019. Prior to that, she served as a high school math teacher and assistant softball coach at Charles Page High School in Sand Springs, Oklahoma.
In college, Ms. Smart was a student athlete at TU, where she played softball while earning a Bachelor of Arts in Elementary Education with a minor in Mathematics. Following her graduation from TU, she was given the opportunity to play softball in Germany, where she was tasked with planning and executing practices, coordinating lineups and helping with game time decisions. That following year, Ms. Smart was offered a position as the Assistant Softball Coach for The University of Tulsa program. In her coaching and playing tenure at TU, Ms. Smart helped lead the Golden Hurricane to nine regular season and conference championships. During that time, she earned a Master of Science in Math and Science Education.
In 2014, Ms. Smart put her higher education experience to use and went into the classroom at Charles Page High School. She taught a variety of mathematics classes including: Geometry, Algebra 2, Algebra 3, Pre-AP Trigonometry and AP Statistics, all while maintaining a key role as an Assistant Coach with the softball program at Sand Springs. The softball program earned the opportunity to host a home regional in all six of the seasons that Ms. Smart was coaching, as well as, five out of the six years qualifying for the state tournament. Outside of work, Ms. Smart is a volunteer with Lab Rescue OK, a non-profit dog rescue based out of Oklahoma. She also volunteers with its sister organization, TagOK, a non-profit that is aimed at providing free and low-cost pet ID tags with the goal of getting ahead of the overcrowded shelter population.
Read More
After graduating Loyola University Maryland in 2005, Bryan began his music agent path as an intern at The Agency Group in Manhattan.  Moving up the ranks at TAG, he was officially promoted to agent in 2012 and tasked with starting the college division at TAG.  Bryan and his family moved to Nashville in 2015, the same year that United Talent Agency acquired The Agency Group.  Currently, Bryan heads the college division, as well as the fair division, military division, and is the responsible agent for clients across a variety of genres.
Special Events Supervisor
Read More
Camille Marie David is a 4th year Biology major with a concentration in microbiology at California State University East Bay. She is currently one of the special events supervisors for ASI Presents programming team and has been on the team for over a year and a half.
Read More
Carter Knake is a student studying Business and Communications at Culver-Stockton College. He is the President of the Campus Programming Council at his college.
Read More
Christian Amechi is a Comedy Touring Agent at leading entertainment and sports agency Creative Artists Agency (CAA) and has been with the company since 2012. He leads the college and university bookings on behalf of the agency's comedy clients. Christian has also built a roster of diverse and underrepresented voices, including Chris Spencer, Elsa Majimbo, Daphnique Springs, Haha Davis, Lavell Crawford, Katt Williams, Tone Bell, Prince EA, Heidi Gardner, and Zainab Johnson, among others.
Read More
Cody is a Senior Study Abroad Advisor at Wake Forest University in Winston-Salem, NC. He has been at Wake Forest since August 2016, and advises for semester-long programs in Barcelona, Chile, England, and Japan. He is lucky enough to have studied abroad both as an undergraduate and a graduate student. As an undergraduate student he participated on a faculty-led program to Denmark, Ireland, and Norway. While in graduate school he was able to travel to Italy for two weeks and learn about the Italian higher education system.
Cody earned a bachelor's degree in history from Luther College in Decorah, IA in 2009 and a master's degree in higher education administration from St. Cloud State University in St. Cloud, MN in 2016.
Read More
Courtney James currently serves as the director in Student Involvement at DePaul University. In her role, she supervises student organizations, campus activities, fraternity & sorority life, and Esports.
Prior to her time at DePaul, Courtney worked for five years in campus activities at the University of Central Oklahoma. She volunteers with the National Association for Campus Activities. Highlights to her volunteer experience include serving as the co-chair for the Live Event Action Group, co-chair to the NACA/NIRSA Esports Task Force, 2018 NACA National Convention Chair, 2015 Central Regional Conference Chair, and other roles with regional conferences, the national convention and summer institutes. She has published a variety of articles for Campus Activities Programming Magazine on such topics as assessment, volunteer management, voter engagement and more. Previous honors include the 2018 DePaul University Student Affairs Innovation Award, 2017 DePaul University Division of Student Affairs Collaboration Award, 2015 NACA Legacy Award, the 2013 University of Central Oklahoma Advisor of the Year, and the 2012 Central Region Outstanding New Professional.
Courtney completed her bachelor's degree at Augustana College (IL) and her master's degree at Western Illinois University.
Read More
David Bonilla-Ciferri serves as an Advisor to the University of Maryland-College Park's programming board, Student Entertainment Events (SEE). David received a Bachelor's degree in Social Work at Florida State University, where he began his journey to Student Affairs through Orientation, University Housing, and The Center for Leadership and Social Change. He completed his graduate degree in Student Affairs at the University of Maryland-College Park, gaining experiences with Fraternity and Sorority Life, Living-Learning Programs, and becoming a Graduate Advisor for SEE.
After graduation, David became the Program Coordinator for SEE and helped them more than double attendance at their annual Homecoming Comedy Show and re-envision their spring concert experience, Art Attack. He has led SEE in being adaptable and creative during the COVID pandemic. David is passionate about centering student wellness and self-care in programming.
Read More
David Buchalter is a futurist & leader in the lecture industry. While still a senior at the University of Florida, he chaired the country's largest student-run speakers bureau. David went on to become an Agent for the Greater Talent Network (GTN), one of the leading speakers agencies in the world, which was later acquired by United Talent Agency (UTA) in 2017. David represents a wide-ranging roster from former politicians, social justice advocates, award-winning journalists, digital stars and celebrity talent. In his 15+ year career, he has booked thousands of speaking engagements and overseen speaking tours for many of the most notable college celebrity keynote speakers. David graduated from UF in 2005, and earned his MBA from Florida Atlantic University in 2018. He continues to oversee UTA's Speakers Department University division.
Teacher, Yoga, & Wellness
Read More
Dena Jackson is a comedian, TEDx speaker and hatha yoga instructor who completed her 200-hour yoga teacher training at Kashish Yoga School in Goa, India. As a stand up comedian and podcast host, Dena uses a comedic approach to help educate others on the benefits of yoga and mindfulness practices. She also loves making her audiences laugh at numerous comedy clubs and festivals across Canada and her album "Blue Lights" hit # 1 on the iTunes Comedy charts in 2019
Read More
A native of northeast Ohio, Demetria Bell Anderson is a higher education professional whose career has spanned two decades on college and university campuses from the east coast to the Midwest. With experience in multicultural development, academic support services, residence life, campus activities, student leadership involvement, sorority and fraternity life, and student government advising, Demetria has functioned as an office of one, a staff team member, and as a staff team lead.
In 2018, Demetria served as the first African American female elected to chair of the board of directors for the National Association of Campus Activities (NACA). Anderson is proud member of Delta Sigma Theta Sorority, Incorporated having served as a collegiate chapter advisor, is a past president of the Milwaukee Alumnae Chapter, and is a current member of the Undergraduate and University Affairs Taskforce.
Demetria completed her Bachelor of Arts degree in psychology from Bennett
College (Greensboro, NC), and has an earned Master of Arts Education degree in Higher Education, Administration, Management, & Leadership from the
University of Akron (Akron, OH).
With oversight of units responsible for campus activities, student organizations, student leadership programs, LGBTQ+ resources, programs and services for first generation students, historically underrepresented students, and sorority and fraternity life, Demetria currently serves as the inaugural director for the office of engagement and inclusion at Marquette University (Milwaukee, WI), and is a devoted wife to her high school sweetheart and loving mother to their two daughters.
Read More
Donna McQueen is Vice President of Brand Partnerships at Red Light Management's sister agency, New Era Media & Marketing.  RLM is the largest independent artist management company in the world.  Based in Nashville, she develops partnerships for RLM's diverse roster of 300+ artists, some of which include Dave Matthews Band, Luke Bryan, Maren Morris, Sam Hunt, Lady A, Brandi Carlile, Brittany Howard, Dustin Lynch, Gabby Barrett, Lindsey Ell and more. In addition, Donna develops sponsorship programs and partnerships for a handful of independent festival properties and unique entertainment properties such as Shaq's Fun House, Gronk Beach and more.
Read More
School: University of Michigan
Major: Data Analytics
Role on Programming Board: President of Big Ticket Productions, a 100% student run major event production group
Read More
Read More
Wall Street Journal-bestselling author Fred Minnick loves bourbon and rum, but hates vodka. The TV personality (Moonshiners, Top Chef and Frontier Filmmakers) has authored seven books, has The Fred Minnick Show and Bourbon Pursuit Podcasts. Plus, YouTube.
Read More
Greg Cody is the founding president and owner of FanFX Consulting Group and has over a decade of experience in live event production.  No matter the production, FanFX brings collaboration, innovation, and teamwork to the forefront of the process.  Greg & FanFX's work ranges from producing premier sporting & entertainment events like the Stanley Cup finals (go Bruins!), NBA playoffs, NCAA D1 championships and Super Bowls, to arena renovations and control room overhauls; where his vast knowledge of technology and workflow processes has helped businesses excel.  Most recently, he has pivoted FanFX to be a top provider for virtual productions (150+ in a 5 month span) that focus on interaction and engagement.
Read More
Hibo Ahmed (she/her) is the Brock University Students' Union Clubs Manager and also oversees the BUSU World University Service of Canada program. Hibo has worked with clubs for over 4 years and was both a Club Executive and a Student Club Coordinator. Form her various roles she has continuously shared her knowledge and experience in student engagement, club support and administration.
Dir. Biz Mgmt Sports & Ent
Read More
As Director of Business Management for Sports and Entertainment here at Adeptus, I spearhead the recruiting efforts in both areas.  I work exclusively on sports assignments and serve as the primary contact for a client base that includes the NHL, MLB, NBA and NFL.  I also serve as a liaison for the entertainment industry. Prior to joining Adeptus, I worked at ESPN for 10 years as an NFL reporter and was fortunate enough to cover four Super Bowls and five seasons of the NBA during my career.  My extensive experience and business knowledge from covering pro sports help to service the needs of our clients.
Read More
Ian Shick has a Dual Master's in Public Administration and Student Affairs Administration from Binghamton University. Their experience covers a wide range of topics from large scale programming to education initiatives and identity development support. They have a focus in LGBTQ Student advocacy and live at the intersections of student power and professional revolution. For the past 2 years, they have worked to develop the Binghamton University Active Ally program that seeks to develop change agents with the skills and drive to dismantle Cis-Het Normativity and all its intersections. They believe programming can change the world when it comes from the heart, takes some risks, and demands excellence.
Read More
Jackie currently serves as the Director of Student Involvement at Saint Louis University. With nearly 20 years of experience in higher education, Jackie once felt like she had seen and done it all…until 2020, when everyone's world was interrupted for a pandemic. Jackie appreciates the ability to be creative and think outside the box to find new ways to engage and support students, and she despises "doing what we've always done."
Read More
Jacob started his career when he was 14 years old, after launching a YouTube channel to promote music that he was producing at the time. Shortly after, Jacob started a record label and, in order to get PR for my artists, he began writing for a variety of music blogs. His work captured the attention of Alex Williams, co-founder of Create Music Group, one of the
fastest growing independent music companies in the world. Alex hired him to run a campaign for his artist, Gold Top, it went very well and they struck up a friendship. When Create secured its seed financing, Alex rang him up and hired him to help run business development. Alex actually had no idea what his age was when he hired him. Jacob became VP of Business Development for Create at the age of 16.
Read More
Jaret Reddick is the frontman and songwriter for Grammy nominated, pop punk icons, Bowling For Soup. He is also a voice actor, voicing many commercials. Most notably, he is the voice of CHUCK E CHEESE and the voice of Danny on Disney's Phineas and Ferb. Jaret also wrote and performed many songs for Phineas and Ferb during the shows run, including the shows Emmy winning theme song! He is happily married, has three kids, three dogs and a cat, and likes karaoke and piano bars, despite the stigma attached. Speaking of stigma, Jaret is a champion for mental health awareness and often shares his own personal struggles with anxiety and depression. Jaret Reddick…Nice Guy.
Creator & Creative Director
Read More
Jason LeVasseur is leadership speaker, workshop facilitator, summer camp program director, award-winning music performer, & the creator and creative director of The Rock Star Project® – a collection of original programs that combine Jason's knowledge in both teaching and music in his unique leadership framework. During the academic year Jason travels and works with companies, associations, schools, colleges, and student leaders across the country – helping them realize their influential role at work, on campus, and in their community. In March of 2020 Jason created the online group called "The Virtual Event Ideas Community" which now serves as a resource to over 10,000 teachers, students, and higher education professionals. He has quickly become one of the most skilled virtual presenters in the industry, facilitating over 200 events between March and October of 2020.
Read More
Jeff has been in the Entertainment Industry for over 20 years. Starting off working in the college division of Swank Motion Pictures, Inc. as an account representative, and then at Auburn Moon Agency as Vice President and Director of the College Division.
Read More
Jess has a variety of experience she brings to the Degy team, from live music and entertainment; conference logistics coordination; and even wedding planning. She is excited to return to her roots working in live entertainment, and bridge her passion for events and experience working with students, into her role as Major Events Operations Manager at Degy Entertainment.
Read More
Since the start of his career, New York-born and Los Angeles-based singer, songwriter, artist, and actor Jesse McCartney has built a catalog of instantly recognizable anthems and captivated audiences on the road and on-screen. His first three albums—the Platinum Beautiful Soul [2004], Right Where You Want Me [2006], and Departure [2008]—consecutively bowed in the Top 15 of the Billboard Top 200 with the singles "Beautiful Soul" minted Gold and "Leavin'" certified Platinum. Plus, he collaborated with T-Pain on the cross-genre banger "Body Language." Meanwhile, SPIN touted In Technicolor among its "Top 20 Pop Albums of 2014." Along the way, he performed in arenas alongside the likes of New Kids on the Block and Backstreet Boys in addition to packing global headline tours and hosting shows for both George W. Bush and Barack Obama. A sought-after songwriter, he notably wrote the 4x-Platinum GRAMMY® Award-nominated "Bleeding Love" for Leona Lewis. In 2018, the one-off single "Better With You" racked up nearly 30 million cumulative streams and paved the way for his fifth offering. Simultaneously, his acting credits grew to include everything from Chernobyl Diaries and Fear The Walking Dead to Alvin and the Chipmunks, and even voicing the character Roxas/Ventus in gamer favorite Kingdom Hearts. In 2020, Jesse was revealed as the fan favorite Turtle in the third season finale of Fox's The Masked Singer. In 2020 he has released single "Friends," an homage to the people who became chosen family which followed the release of "Yours," an introspective look at the different roles he's played throughout his life. " Beyond this year, I'm looking forward to a whole new stage."
Read More
Karen is the Program Manager for the worldwide MWR Navy Entertainment program. Navy Entertainment produces between 200-400 shows a year on 5 continents and deployed ships at sea. Talent and programming ranging from music, athletes, chefs, children's shows and esports for the most deserving audience on the planet, the US military.
Director of Student Involv
Illinois Wesleyan University
Read More
Carey serves as the Director of Student Involvement at Illinois Wesleyan University where he oversees campus activities, fraternity and sorority life, leadership programs, registered student organizations, student center operations, campus reservations, and the Green Dot bystander intervention program. He is graduate of Illinois Wesleyan University with a BA in English and from Ball State University with a MA in Student Affairs Administration in Higher Education. He is a doctoral candidate for his EdD in Educational Policy, Organization, and Leadership with a concentration in Diversity & Equity in Education at the University of Illinois, Urbana-Champaign. Carey serves as the serves his fraternity, Sigma Pi, as the Illiana Province Archon, Diversity, Equity, and Inclusion Chair and 2020-2022 Elections Board Chairman for Sigma Pi and is on the Board of Directors for the Illinois 4-H Foundation.
Kevin lives in Normal, Illinois with his fiance, Kari, where they spend much of their time with projects on their home, running/working out, and drinking coffee at all hours of the day!
Read More
Katie Germano is a Music Agent at leading entertainment and sports agency Creative Artists Agency (CAA). Germano works in the Nashville office and represents many of the world's leading musicians, including Kelsea Ballerini, Maddie & Tae, Drew Holcomb and the Neighbors, and Betty Who, among others. She also handles a significant portion of the music department's college business, booking hundreds of shows on college campuses each year.
Germano began her career at CAA in 2014, and was promoted to Agent in 2018.
She graduated from Belmont University with a degree in Music Business. She has since gone on to become an adjunct professor on the University staff, creating a class titled "Inside a Booking Agency" which hosts Belmont students at CAA's Nashville office for a weekly night class.
Asst. Director Student Life
Read More
Kathy serves as the Assistant Director of Student Life at Mount Wachusett Community College in Gardner, MA. She holds associate and bachelor's degrees in Business Administration and a Master of Science degree in Higher Education Administration. She first became involved in student life as an undergrad at MWCC when she returned to school as a non-traditional student. Kathy served as the Student Government President and also on the MA Board of Higher Education as the Student Member. She developed a passion for student services during this time and returned to work in Student Life at MWCC upon her graduation there. Her goal is to create diverse student involvement options that help students stay connected and achieve their educational goals.
Division of Student Affairs
Read More
Keywuan J. Caulk was born and raised in Penns Grove, New Jersey.
Keywuan is an administrator at Rutgers University – New Brunswick.  Currently, he serves within the Division of Student Affairs as Director for the Center for Social Justice Education & LGBT Communities with previous roles in this office, New Student Orientation & Family Programs and the Office of Residence Life — Busch Campus.  In the Division of Student Affairs, he is a past chair of the Diversity Council as well as the Regional Excellence in Student Affairs Conference.
In collaboration with the university's Douglass Residential College and the Women and Gender Studies program, Keywuan was an adjunct instructor.  He instructed a course titled Understanding Gender Inequalities and Social Changes, also known as Knowledge and Power, which is a foundational course that examines intersectional feminism, diversity, gender and social justice.
He takes great Knight-pride in Fairleigh Dickinson University (Metropolitan Campus), where he obtained his Bachelors of Psychology in 2008. In 2012, he became a Husky-alum of Bloomsburg University of Pennsylvania, receiving his Masters of Education in Counseling with a dual focus in Student Affairs and Elementary Education.
To advance his mission, Keywuan furthers his knowledge to combat systematic oppression and eliminate discrimination. He strives to establish inclusive communities that contribute to the betterment of society at large, especially among colleges and universities.
Read More
Kristy is one of those jack-of-all trades that has had a variety of experiences within live entertainment and their venues. She began with operations at the Wells Fargo Center in Philadelphia and worked her way to overseeing site development and logistics of large scale music festivals for the past 4 years with Live Nation.
Read More
Kyle Neary currently serves as the Assistant Director for Student Programming at Boston College advising the Campus Activities Board. He received his Master's in Higher Education in Student Affairs at the University of Connecticut and attended Merrimack College for his undergraduate degree. Kyle has been volunteering with National Association for Campus Activities for the past decade, and currently is the Northeast Volunteer Development & Graduate Intern Coordinator.
If you want to add in something about this fall for credibility, feel free to add in – This fall, the Boston College Campus Activities Board hosted 62 events ranging from virtual to new experiential programs and everything in between, all while keeping social distancing and safety guidelines in place.
Read More
Lauren studies Communications & Media at California State University East Bay in the Bay Area, CA. She's been an ASI Presents Supervisor on the Associated Students Inc. Presents Programming Team on campus for a year.
Read More
Laurie McCall has been working in higher ed as a student affairs administrator her entire career. After completing a graduate assistantship in Student Development at Bloomsburg University, she worked at York College until finding her home at The University of Pennsylvania. She started as Assistant Director of New Student Orientation for the Department of Academic Support Programs. After starting a family, she remained on a part time basis to run the PennQuest Pre-Orientation Program. In 2007, she returned to full time to work for the Platt Student Performing Arts House and Pre-Orientation Programs. Her role expanded in 2013 as she took on the Director position. Her work with the student performing arts at Penn has enabled her to expand the resources and programming available to students on campus as well as introducing students to many successful career mentors form LA and New York in all aspects of performing arts. She holds a B.S. in Education from Kutztown University and a M.A. in Communication Studies from Bloomsburg University.
Director of Student Involv
Read More
Leah Cassellia is a higher education professional with over 25 years of student affairs experience in both private and public institutions. She is a fierce advocate for addressing college student needs. Currently at Kutztown University of Pennsylvania, she works with students and colleagues to provide engaging, impactful and memorable events, programs and services. Leah is also a community volunteer, active in both Girl Scouts and the local baseball/softball league.
Read More
Marcy Lightfoot has been the Career Coach for the Media, Arts, and Communication (MAC) Career Community at Towson University since the inception of the career community two years ago.  Marcy works with students regarding career planning and exploration and provides targeted resources for students interested in careers in media, arts, and communication industries.  Prior to this role, Marcy was a professor in the Communication Studies Department at TU for 10 years and also served as an academic advisor.
Read More
With over 16 years of experience, Maria Kim specializes in branding, relationship building, and advancing diversity.
She holds a Bachelors of Science in Hotel Restaurant Institutional Management from Penn State and continues to give to her alumna mater by now serving as the Career Services & Internship Coordinator.
Maria has led teams in Penn Campus Dining and has initiated their Culinary and Management Rotational Internship Program. Through these programs, Maria has created a platform to jump start hundreds of student's careers. In the community, Maria advises Penn State Filipino Association, Alpha Kappa Delta Phi International Sorority, and the National Society of Minorities in Hospitality.
Born and raise in the Philippines she now resides in State College, Pennsylvania. In her free time, she enjoys spending time with her husband, son, mom, and puppy, while catching on occasional episodes of Korean Drama.
Director Alumni Relations
Read More
Mary Neuenschwander became Director of Alumni Relations at Kutztown University in February 2018. She has over eight years of experience in alumni relations ranging from overseeing a student ambassador organization to restructuring an alumni board. Prior to coming to Kutztown University, Mary was an elementary and middle school teacher in Ohio and Illinois. She earned her undergraduate degree from Kent State University and Masters from New York University, with a residency at Oxford University.
Read More
My name is Meagan Blythe, I'm from Sam Houston State University in Texas, I'm a political science major, and I'm the Vice President of External Affairs for my school's Program Council, where my focus is on larger events and marketing.
Read More
A graduate of Juniata College, Meg White began her career at Roadrunner Records as an intern in 2007 working in college radio promo, then moved on to concert touring at ICM in 2008. Over the past 12 years she's worked in North American touring focusing on clubs, theaters, festivals and is now head of the College Concerts department. Her clients include Moonchild, Diamanté, Jaguar Jonze, Ric Wilson and many more.
Read More
Once a NYC advertising executive, Melissa found her passion by helping other achieve their goals through network marketing, which she propelled into a life changing career. Melissa is now a "serial  philanthropist" fueled by her business. This allows her to help build confidence in others through recommending products and teaching others to reach entrepreneurial dreams.
Read More
Monique Gore gained a passion and love for higher education by being an active student leader at Gettysburg College. At Rutgers University-Camden as the Assistant Coordinator in the Office of Campus Involvement, she was responsible for evening and weekend events, community service programming, student organizations recognition, and Greek Life. In June of 2012, she returned to her alma mater in the Office of Student Activities and Greek Life. Monique excelled in student programming as the primary advisor for the Campus Activities Board, The Attic night club space, and advisor for 80+ active student organizations. After four years in that office, she was promoted as the Inaugural Director of Programming and Outreach in the Office of Multicultural Engagement (OME) in the summer of 2016. In the OME, Monique has created a marketing/ branding strategy for the new office. She developed a transition pre-orientation program for First-Generation, lower- socioeconomic status BIPOC, and Queer students. She specializes in a holistic approach to multicultural competencies for campus-wide programming, faculty partnerships, student organization advising, and alumni engagement. In 2018 she was awarded the National Association for Campus Activities – Outstanding Diversity Achievement Award- Individual
Read More
Nathaniel Motte is a singer, songwriter, producer and composer from Boulder Colorado. He is
one of two members of the group 3OH!3. As 3OH!3, Motte has toured worldwide, sold over 15
million singles, had a #1 song at U.S. Top 40 radio ("Don't Trust Me") and collaborated with
artists like Katy Perry, Ke$ha and Lil Jon. Motte also works as a songwriter and producer for
other projects and has written and produced hits for Maroon 5 and MAX, among others.
Nathaniel Motte and 3OH!3 have played colleges and universities all over the U.S. and 3OH!3
brings their sense of fun, inclusiveness, energy and positivity everywhere they go.
Read More
As an Associate Director of the Alford Community Leadership and Involvement Center, Patrick Fina works with Denison's campus organizations, large scale campus traditions, and signature Denison events.
Before arriving to Denison, Fina was the Director of Campus Life for the Illinois Institute of Technology. Additionally, he coordinated LGBTQ+ and social justice programs at Loyola University Chicago, and Cal Poly, San Luis Obispo, the latter where he served as an AmeriCorps Fellow.
Fina is originally from Easton, Pennsylvania, and Savannah, Georgia. Outside of work, he collects vinyl records, plays tenor saxophone, and dabbles in traditional photography.
Read More
Patrick is currently the Senior Manager, Student Life for the Algonquin College Students' Association. He has worked in a number of different departments pertaining to student life at Algonquin including Residence Life, Student Affairs and Orientation, Academic Partnerships and much more. Patrick helped establish Algonquins Clubs and Communities department, including a 1,500 sq ft student space on campus. He is a graduate of the Broadcasting – Radio program, and Marketing Management at Algonquin College.
Read More
Ms. Ozeroglu joined The University of Tulsa Center for Career Development and Professional Engagement as Employer Services Coordinator in October of 2019.
Ms. Ozeroglu graduated with a bachelor's in business administration majoring in Marketing and minoring in Management from Oklahoma State University in December of 2016. Following graduation, she worked at an oilfield chemical transportation company, Titan Chemical, in McAlester, Oklahoma as Accounts Payable Specialist from 2017-2019. In this position, she worked with vendors to maintain relationships and coordinate approval process for all invoices and other financial information. Ms. Ozeroglu completely revamped the companies accounting systems in order to reflect more accurate financial records, which made the ability to identify risks and trends easier for employees.
After relocating to Tulsa in 2019, she accepted the position of Outsourcing Specialist at Regier, Carr, and Monroe LLP, where she worked closely with clients to aid on day-to-day accounting operations which included the preparation of month-end and year-end financial reconciliations. Wanting to find a more fulfilling career path, Ms. Ozeroglu accepted a position at Oklahoma State University – Tulsa where she was hired as Program Specialist of Student Affairs, where she found her love for higher education. A few short months later, she accepted the opportunity to work as Employer Services Coordinator at the University of Tulsa.
Outside of work, Ms. Ozeroglu enjoys spending time with her family, friends, and her dog Luna Belle. She also enjoys yoga, camping, and painting. In the future, Ms. Ozeroglu plans to continue her education in pursuit of a master's degree in business administration.
Read More
Stacey Sottung is currently the Special Events Manager for the Housing Alliance of Pennsylvania in addition to being a Star Manager/ Independent Consultant for Tupperware. For as long as she can remember, Stacey had a side hustle in addition to a full-time job. Typically it was in the Hospitality Industry, most recently working with Swig Event Coordination & Staffing since 2013 as a Server/Bartender/ Wedding Day of Coordinator. When COVID-19 took down live events and spring/summer events disappeared, Stacey took a leap into direct sales with Tupperware. It has been the best decision of her life.
Read More
Steve Harpst became Director of the Center for Student Involvement at Orange County Community College (SUNY Orange) in 2000. He has over 30 years of experience in student activities including 2-year public and 4-year private institutions. He earned his undergraduate degree in Public Relations from Utica College and a Masters in Education from Alfred University.
Read More
As an Associate Director of the Alford Community Leadership and Involvement Center, Patrick Fina works with Denison's campus organizations, large scale campus traditions, and signature Denison events.
Before arriving to Denison, Fina was the Director of Campus Life for the Illinois Institute of Technology. Additionally, he coordinated LGBTQ+ and social justice programs at Loyola University Chicago, and Cal Poly, San Luis Obispo, the latter where he served as an AmeriCorps Fellow.
Fina is originally from Easton, Pennsylvania, and Savannah, Georgia. Outside of work, he collects vinyl records, plays tenor saxophone, and dabbles in traditional photography.
Read More
As Vice President, Creative, Los Angeles, Tracie Verlinde is responsible for overseeing the Pop, Rock and Indie team based in that office. She works closely with her team to discover and sign new songwriters, publishers and bands in those genres, while furthering educational programs, various songwriter showcases and opportunities to build their careers.
She was promoted to this position in 2017. Previously Verlinde was the Assistant Vice President, Creative, Los Angeles where she assisted BMI songwriters with creative and administrative needs and helped coordinate local, regional and national showcases, events and seminars to highlight and promote BMI's talented roster of songwriters.
As a 20-year veteran at BMI, Verlinde has worked with Linkin Park, The Lumineers, Jack White, members of the Foo Fighters, Death Cab For Cutie/ Ben Gibbard, Macklemore and Ryan Lewis, All Time Low, Grizzly Bear and The Head and The Heart, among others.
She has also been responsible for developing and implementing industry showcases, panels and seminars including BMI's "Pick of the Month," the "Acoustic Lounge" showcase series, "BMI 101" and the launch of the LA version of BMI's "Speed Dating for Songwriters" series, as well as the "Hear It Here First" in-office performance series. In addition, Verlinde assists with the producing of annual showcases at SXSW, and the BMI "Snowball" showcase at the Sundance Film Festival, as well as events at Musicfest NW and workshops in partnership with the Recording Academy.
Verlinde joined BMI in 1997 as Associate Director, Writer/ Publisher Relations. In 1999 she was promoted to the position of Director. In 2002 she was promoted to Senior Director followed by a promotion to Executive Director in 2010 within the Writer/Publisher Relations department. As of 2015, she has been serving as Assistant Vice President, Creative at BMI.
Prior to BMI, Verlinde worked at Avalon Attractions in Los Angeles where she held the position of Concert Talent Buyer and produced up to 300 concerts for artists including Nirvana, Radiohead, Oasis and PJ Harvey. Verlinde also worked at TBA Media where she held the position of Director of Marketing, conceptualizing and executing creative marketing plans, radio contests, competitions and promotions for all club, theater, arena and stadium shows.
She holds a Bachelor of Fine Arts degree from the University of California, Riverside and a Master's degree in Psychology as well as a certificate from the UCLA Anderson School of Business Women's Leadership Institute. She currently serves as an Advisory Board Member for Music for Relief, founded by the band Linkin Park in 2005. She also serves as a member of the Recording Academy, AIMP and SHOF and previously served as a mentor for the Popular Music Program at USC Thornton School of Music.
Read More
No stranger to the stage, Ty Howie has spent the past 10 years in the entertainment and performing arts industry. As the current Events Manager for the Mohawk Students' Association (Mohawk College, Ontario, Canada), Ty leads the programming team that provides entertainment and experiences for students both in person and virtually. Additionally, Ty continues to stay involved in the industry not only as a working member, but as a local songwriter and musician.
Recently Added Presenters
Read More
21 year old influencer, podcast cohost on let's talk by thisizground0, dancer, and plant based healer Mikayla chun with 30k+ reach across; Instagram (@mindfulmikayla) tiktok (@themindfulmikayla) and paid streamer on Hago (@mindfulmikayla), has worked with and promoted fenty beauty, L'Oréal, garnier, revive superfoods, adore me, and many other smaller brands all on her own. She became a successful influencer with high genuine engagement rate when she stepped out of her comfort zone and posted her freestyle dance videos on Instagram for the first time. From there on she attracted an audience wherever she went by being authentic and real while sharing the ups and downs of life that many can relate to. She loves helping others whether it be: artists through her choreographed promo videos, up and coming influencer through connections, or people who are dealing with mental health issues and bumps in the road as she once has.
Read More
Rachel Lucking is the Assistant Dean for Campus Engagement at Framingham State University (MA) and has been part of the Framingham State community for twenty years. Her undergraduate Resident Assistant (RA) experience at Illinois State University led her to earning her Master's Degree at Boston College in Higher Education Administration. Over the past twenty years Rachel has worked in residence life, student activities, experiential learning, leadership development, and student outreach and engagement initiatives. Rachel oversees Career Services and Employer Relations and Student Involvement and Leadership Development where they focus on the connection between student involvement and career ready skills.
Read More
Sara Gallegos, Ed.D. is the Director of Student Involvement at Framingham State University located in Massachusetts. Sara earned a Bachelor of Arts in Psychology from New Mexico State University, a Master of Education in Higher Education Administration & Student Affairs from the University of South Carolina, and a Doctor of Education in Higher Education Administration from Northeastern University. She has spent that last 16 years in the profession working in the areas of student activities and student government.
Student Life & Activities
Read More
Lauren Brutsman joined the Office of Student Life and Activities at Brookdale Community College in 2004, and currently serves as the Director of Student Life and Activities. Prior to working at Brookdale Community College, Ms. Brutsman served as a Graduate Assistant in the Office of Student Life and Activities at Wagner College in Staten Island, NY.
As the Director of Student Life and Activities, she plays a pivotal role in helping the Office of Student Life and Activities enhance the college experience through a comprehensive campus life program. Ms. Brutsman oversees the Brookdale Community College Student Life Board (SLB), campus engagement, communication, clubs and organizations, leadership, Graduation and New Student Orientation. In addition, she is an active member of the National Association of Campus Activities.
Lauren earned her B.S. and her M.B.A. in Business Administration at Wagner College. She grew up and currently lives on the Jersey Shore where she spends most of her time in flip flops, exercising on the boardwalk or in the warmer months, enjoying her time at the beach!
Read More
Hoan Do is an award-winning inspirational speaker, was featured on Lay's chip bags nationwide, and City Finalist in NBC's hit show, American Ninja Warrior.
For over a decade, Hoan has partnered with colleges, high schools, organizations to empower people to overcome their adversities by developing resilience and mental strength. His practical strategies have positively impacted over 250,000 professionals and students.
Since the beginning of the pandemic, Hoan has been the go to person on virtual engagement in higher education. His pdf guide, Engaging Virtually has been downloaded by over 3,000 student affairs professionals. Hoan has been featured on Good Morning America, Yahoo Finance, NBC, The Chicago Tribune.
His clients include: NASPA, ACPA, NACA, NODA, AFLV, American Federation of Teachers, Stanford University, Baylor University, and hundreds of other college and universities.
To learn more about Hoan, go to www.HoanDo.com
Southern Connecticut State
Read More
Eric LaCharity serves as the Associate Director of Student Involvement at Southern Connecticut State University. In his position, Eric advises the university programming board and Greek Life, as well as providing oversight of the office's social media accounts. To further his work in the field of student activities, Eric has volunteered with the NACA Northeast Regional Conference Planning Committee for each of the past five years. Eric holds a Bachelor's Degree in Communication and a Master's Degree in Recreation Administration, both from SCSU. When not in the office, Eric can be found on the golf course, at a dog park with his dog Hamilton or serving as commissioner to his fantasy football league.
Read More
Hope Miller is in her fifth year as Associate Director for Student Involvement at George Mason University, where she is responsible for large scale campus events and traditions and departmental marketing. She has been in the field since 2007, and holds a bachelor's degree in Fine Art from the University of Maryland in College Park, MD, and a master's degree in Business and Technology Management (Innovated Leadership) from Stevenson University (MD).
Read More
Certain experiences burn themselves in your memory from the very first encounter. The jaw-dropping audio pyrotechnics that Naturally 7 put on display every night absolutely belong in that category. "A capella group" so vastly underplays what they create onstage that they had to coin a phrase – "Vocal Play" – to more accurately depict what they do. Naturally 7 is more than a tightly orchestrated collection of great singers. They transform their voices into actual human instruments, effortlessly producing music of any genre. Their vocal choreography is so perfectly interwoven that they compelled the musical maestro himself, Quincy Jones, to declare that "Naturally 7 is the future of vocal music!!" Their sonic mastery was on full display in a series of unforgettable performances on "The World's Best" TV show, which premiered on CBS immediately following Super Bowl LIII. Hosted by comedian and "Car Karaoke" collaborator, James Corden, Naturally 7 reigned supreme as the world's "Best Group", and cemented their singular status among the planet's musical elite.
This was only icing on the cake of a still-vibrant 20-year career, which includes 3 world tours – nearly 500 shows – with the incomparable Michael Bublé, shared billing with global phenomenon Coldplay – including a sold out show at the Barclays Center – and owned the spotlight in a pair of national Cheerios commercials. In addition to Bublé, Naturally 7 has shared the stage with numerous icons, including Stevie Wonder, Diana Ross, Quincy Jones, Sarah Connor, Lionel Richie, Ludacris, The Roots, and more. Counted among their world-famous fans are President Barack Obama, Will.I.Am., Ellen DeGeneres, Craig Ferguson, Bill and Melinda Gates, Jay Leno, Allan Titchmarsh, Mo'Nique, Jools Holland, and Arsenio Hall, along with countless others.
With the release of their latest project, 20/20, Naturally 7 comes full circle, adding a fresh spin on 20 fan favorites, hand selected by fans the world over. This, their eleventh studio album, celebrates their 20th anniversary in the music industry, giving music lovers all they could hope for, and then some. For the members of Naturally 7 – "Ricky" Lee Ricardo Cort, Rod Eldridge, Kelvin "Kelz" Mitchell, Sean Simmonds, Dwight Stewart, Roger Thomas, and Warren Thomas – it's a privilege to do what they love and bring so much joy to the hearts of their fans each and every night. It's exactly what you would expect. When something is pure magic it's destined to withstand the test of time. Naturally…
DEGY WORLD is an immersive virtual event platform. We've created a new world customized with music stages, expo halls, breakout rooms, auditoriums, meeting spaces, and multi-purpose rooms to fulfill all of your work, entertainment, and event needs. Guests will be fully engaged and excited to create their own personalized avatar and interact as a community. Voice-to-voice conversations along with chat functionality offer a unique opportunity to connect and do business within the world. With an integrated registration platform built to accept ticketing where needed, you will receive sophisticated post-event analytics. Welcome to Degy World.
Frequently Asked Questions
Can I attend on my phone?
Unfortunately, a mobile version of the platform is not available at this time.  All users must download the software onto their Mac or PC computer.  Chromebook, Tablets, and Linux based software systems do not work at this time. 
What are the hardware and tech requirements?
Software: Full versions of Windows 7 SP11+ or Mac OSx 10.11+ 
Hardware: Minimum of 2Ghz multicore processor, 4GB Memory, and 2.5GB Storage with a strong and consistent internet connection (recommended 15MB+ download speeds) 
CLICK HERE for additional details and recommendations
Do I need headphones or any type of special tech?
Headphones are required to avoid your own avatar from having an echo in Degy World. Please ensure you have headphones connected upon entering.
Do you have tech support to help me?
Yes we have dedicated tech support staff available to assist you both inside and outside of Degy World. Visit the Tech Support building inside of Degy World, or email dwsupport@degyworld.com
Can I use my VR Equipment?
Degy World is VR-Compatable with most of the popular VR equipment, but we currently do not offer tech support or guarantee that your individual VR equipment will function properly.
When do I get access to Degy world?
Once you successfully register for the event, you will receive emails from dwsupport@degyworld.com with your confirmation and additional event information. Then, on January 22nd at apprx. 9:00 AM (EST), you will receive an email with the subject line "Account Creation" which will be when you will be able to create your account, download the software and build your avatar. This process could take anywhere from 15-20 mins depending on the speed of your network. 
Will there be food available for purchase?
We have a food court located on the soccer field just past the stage where users can order food from several popular food delivery services.
Will there be merchandise available for purchase?
Merchandise will be available for sale once inside of Degy World!
Should i register now? will this event sell out?
We strongly encourage you to register as soon as possible. While this event is free (or with a donation) there will only be a limited number of free tickets available.
Can I share this with my entire student body?
Yes, this event is open to all college and university students. However, there will be a strong focus on programming, events, entertainment and the like.
I have read through all of these questions but I still have a few, what can I do?
No problem, please feel free to send your question(s) to dwsupport@degyworld.com and we will answer it at our earliest convenience.